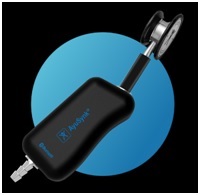 Startup/Enterprise: Ayu Devices, Mumbai
Product Developed: AyuSynk – An Innovative Digital Stethoscope for COVID -19
Incubator: Society for Innovation and Entrepreneurship (SINE), IIT Bombay
Funding Programme: Centre for Augmenting WAR with COVID-19 Health Crisis (CAWACH) Program
Funding Agency: National Science & Technology Entrepreneurship Development Board (NSTEDB), DST, Govt. of India
Several Indian medical devices manufacturers and indigenous automation companies took up the pandemic as a challenge and came up with innovative designs of ventilators, portable respiratory aids or devices for contactless diagnosis and monitoring of the patients. DST, through its CAWACH initiative scouted, evaluated, and supported promising ventilator, respiratory aids, and other vital medical equipment from five companies who have now taken their products to deployment stage.
Maharashtra-based start-up Ayu Devices is a technology-based healthcare company, incubated at Society for Innovation and Entrepreneurship (SINE), IIT Bombay in 2017, has developed a digital stethoscope that can help doctors listen to heart and lungs sounds while keeping at a safe distance from the patients. AyuSynk's unique stethoscope design allows healthcare workers to perform auscultation while being protected in an isolation environment and can be used with protective covers in the ED to reduce contamination when prescreening admissions. AyuSynk can be used directly using earbuds or headphones via Bluetooth within the isolation room or to a consultant outside the room or send sounds via email or instant messaging.
The device identifies abnormal sounds and helps diagnose patients. It is designed as a wireless module to enhance the Bluetooth range and help it to be controlled from a distance. While existing digital stethoscope uses smartphone's Bluetooth, their device works with an additional Bluetooth module to increase the range and consistency in the data. It is also fitted with filters to remove external noise for clear sound making it usable in Indian clinical settings where there is lot of background noise in OPDs. This has enabled doctors to listen to chest sounds while covered in PPEs which is not possible with conventional stethoscope. They are further scaling up the manufacturing to cater to the increasing need and have successfully commercialized the stethoscope for the telemedicine segment. The company has sold 1,000 units that have been deployed in many hospitals.
Website link: https://www.ayudevices.store/