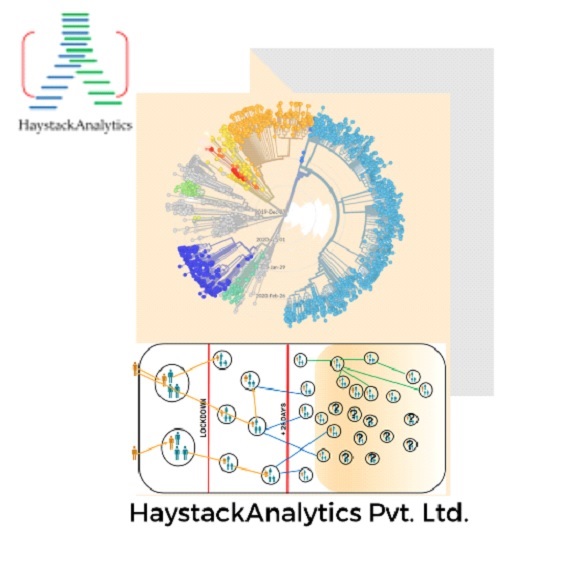 Startup/Enterprise: Haystack Analytics Pvt. Ltd.
Product Developed: Haystack Analytics provides Genome based COVID-19 solutions
Incubator: Society for Innovation and Entrepreneurship (SINE), IIT Bombay
Funding Programme: Centre for Augmenting WAR with COVID-19 Health Crisis (CAWACH) Program
Funding Agency: National Science & Technology Entrepreneurship Development Board (NSTEDB), DST, Govt. of India
Genomics has become increasingly mainstream in clinical sciences. NGS has ushered in the age of genomics; providing the tools to gather all the relevant data for an in-depth inquiry and making simultaneous assessments possible. Today, genomics finds a footprint in identifying pathogens, antimicrobial resistance profiles, genetic disorders, oncology, and numerous non-communicable diseases. Genomics has the potential to translate into clinically actionable results that can help clinicians in making an early diagnosis. A startup Haystack Analytics has developed genomic software solutions covering infectious genomics that take the turn-around time of genomics from weeks to days while preserving quality. This software is scalable to handle high sample throughput through an easy-to-use one-click format.
The startup also supports and builds capabilities in genomic analysis–from the right design, to selecting the right sequencing strategy and the right bioinformatic to apply as per the requirements. Although, the startup has been working on genomics analysis for quite some time. Yet 2020 has become synonymous with pandemic which has further strengthened the need to make genomics analysis relevant and available for infectious disease. We need solutions at-scale genomic diagnostics for many diseases out there, one disease at a time. In the COVID-19 pandemic, the startup has made various genomics-based tool for contact tracing. They are sustainable and promote scalable identification of COVID-19 Transmission, remote monitoring of transmission patterns, and also boost effectiveness of geospatial mapping of COVID19 with genomic transmission mapping. The Genomic Analysis Software specialize in infectious disease genomics bringing ease-of-use in analyzing complex genomic data and transforming healthcare with automated one-click solutions. The services are driven by their experience in tuberculosis, infectious disease, epidemiology, molecular biology and genomics. All the services are driven to pursue cutting-edge applications of genomics and support research and building genomic capabilities.
Some of the products developed are as under:
1. ΩTB - The ΩTB is a single-test to give a complete genomic analysis of Mycobacterium tuberculosis. Identify presence of resistance to 17 antibiotics, phylogeny, mixed infections and hetero-resistance in 5 days.
2. ΩID - The ΩID is a single-test to accurately identify >200 pathogens within 24 hours. The test covers bacteria, viruses and fungi that pose a significant threat to health.
3. ΩAMR - The ΩAMR is a single-test to identify the presence of antimicrobial resistance within 24 hours. The test covers all key antibiotic classes.
4. ΩGut - The gut microbiome is diverse and varies among individuals. It has wide-reaching influences in our physiology ranging from metabolism, immune modulation and neurological functioning. ΩGut identifies dysbiosis whose identification can help in taking corrective and preventive action.
Haystack Analytics has tried to narrow down the widening gap that exists between the vast amounts of genomic data that can be generated today using next-generation sequencing and the limited analytical outcomes of this data. With a focus on infectious disease, they have created a platform to provide clinically relevant interpretations of genomic data to enable better decision-making in healthcare. By applying current industry standard Big Data analytics solutions to biological data, their products are able to re-imagine data-mining, representation and visualization for genomics. Also, to make genomics data consumable for all general healthcare systems, we have managed to bring the solution directly to the users with our unique computing hardware, co-developed with Intel.
Contact Information:
Address: Society for Innovation & Entrepreneurship (SINE), IIT Bombay, IIT Area, Powai,
Mumbai, Maharashtra, India
Email ID: contact@haystackanalytics.in
Website: http://haystackanalytics.co.in