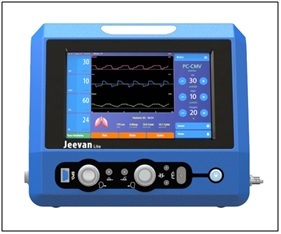 Startup/Enterprise: Aerobiosys Innovations Private Limited, Hyderabad
Product Developed: Jeevan Lite-Affordable Smart Ventilator
Incubator: Center for Healthcare Entrepreneurship, Indian Institute of Technology - Hyderabad
Funding Programme: Centre for Augmenting WAR with COVID-19 Health Crisis (CAWACH) Program
Funding Agency: National Science & Technology Entrepreneurship Development Board (NSTEDB), DST, Govt. of India
The outbreak of COVID-19 has led to the huge demand for ventilators, as infected patients especially those who suffer acute respiratory distress syndrome (ARDS) are in a dire need of this life support system to aid their respiratory functions. A Ventilator is the most widely used short-term life support technique. It has been proven to be the defining intervention of intensive care medicine, especially in these critical times.  Aerobiosys Innovations Private Limited, a company co-founded in 2019 by two young Biodesign Innovation fellows of the Center for Healthcare Entrepreneurship (CfHE) and incubated at the Indian Institute of Technology, Hyderabad; aims to develop affordable life-saving medical equipment with advanced technologies for hospitals, medical institutions, and individual practitioners. This Hyderabad based startup has come up with a smart ventilation system named Jeevan Lite.
This smart ventilation system is a portable, cost effective, IoT-enabled and powered by lithium-ion batteries. It operates uninterrupted in SIMV, CMV , Adaptive and Hybrid modes of ventilation for 5 hours and is both invasive and non-invasive, with a smartphone app to control the device. It has been designed based on the Turbine driven flow method which provides independence from gas cylinders or compressors. It also comes with an integrated nebulizer with auto cut off precise timer. Jeevan Lite features all the essential modes expected from an advanced ventilation system in one adaptable platform. It also presents a wide range of tools to help you stabilize your patient and wean them off the ventilator.
The system has been designed with intuitive UI design which provides each function in logical order so that clinicians do not need to navigate a complex menu. In addition, both the valves and flow sensor support autoclaving. This safety concept is designed to meet the current clinical trends of protecting patients even under the most demanding conditions. The system displays real-time information of the breath pattern and other critical lung parameters. It can attach to an oxygen cylinder and can operate on its own in ambient air. The accessories and consumables are specially developed for the highest possible patient safety and ease of use. This enables the hospitals and the institutes to choose between reusable and disposable parts, according to their institutional policies.
Contact Information:
Address: No.619, C- Block, IIT Hyderabad, Kandi, Medak, Telangana - 502285
Phone No.: +91-8850937581
Email ID: contact@aerobiosys.com
Website: https://www.aerobiosys.com/