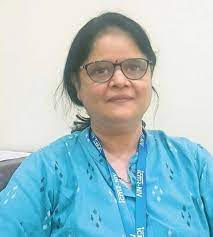 Dr Varsha A Potdar is currently heading the Influenza group in the ICMR-National Institute of Virology. Her lab is the WHO recognised National Influenza center of the country and counted as an apex laboratory of ICMR for diagnosing respiratory diseases. World Health Organisation (WHO) has listed NIV as a reference laboratory for diagnostic support during the pandemic.
Dr Varsha Potdar's team geared up very early for the fight against COVID-19  somewhere in mid-December by preparing the case reference forms and sample collection and transportation guidelines. Soon after the discovery of the causative agent behind this deadly infection, her team started working on standardizing laboratory protocols for the detection of a new virus. The detection of India's first case of SARS CoV-2 was done with the help of these protocols, which was later published by WHO. At the initial time of the nation's struggle against the pandemic, they have trained 13 Viral Research and Diagnostic Laboratories of India with reagents, SOP, and regular technical briefing through VCs.
Their most prominent contribution to the nation is the real-time PCR-based single-tube multiplex assay kit for COVID-19 diagnosis.  NIV and its peripheral units have tested more than 7 lakh samples. Till September 2020, 90% of Indian laboratories were using NIV assay, for which they have supplied ~57 lakh reagents to more than 1200 gov laboratories across India. 
When the nation was facing a scarcity of testing commodities, many companies were encouraged to develop products under the "Atmanirbhar Bharat " yojana. Dr Potdar and her team were actively involved in the validation of the kits designed for the diagnosis. They also guide the companies on how to improve the product so that it can be more useful. It was a huge task, and NIV validated more than 300 kits at that time. NIV is also conducting Quality control of around 106 private and government laboratories of Maharashtra.
She effectively manages the timely communication and dissemination of the information regarding COVID19 updates through publications, press notes, interviews, and video conferencing.
Her interest in science stemmed from her curiosity about nature when she was in school. Her inclination towards science impacted her teachers, who taught many things to her beyond books. Dr Potdar excelled in her field despite her initial struggle of growing up in a small village of Maharashtra where there were few educational opportunities for women, particularly in science. She pursued her dreams by completing her master's from Pune university and her first job on merit at National Chemical Laboratory, where she truly understood what research meant to her.
On her immense contribution to the nation in the fight against COVID-19, she says, "I am fortunate enough to serve the country during this pandemic, though a lot of pressure movement faced due to race against the time, in the end, it gives immense pleasure. I feel being a women, we have an innate strength to multitask very well. During the pressure, we are composed and can find a way out to handle the situation quite well."