SemiconIndia futureDESIGN: Boosting Innovation and Entrepreneurship in the Semiconductor Industry
Semiconductor technology has revolutionised our world, from smartphones to medical equipment, automotive systems, and the Internet of Things (IoT). The growth of this industry has been tremendous, with demand for semiconductors surging. The industry needs more start-ups to innovate and bring fresh ideas to keep up with the demand and stay ahead in the race.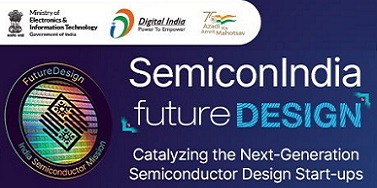 SemiconIndiafutureDESIGN is a programme that aims to catalyse the next-generation semiconductor design start-ups in India. This initiative provides a platform for start-ups to showcase their innovative ideas, connect with industry experts, investors, and mentors, and receive funding and support to bring their ideas to fruition. The programme includes a Design Linked Incentive (DLI) Scheme – announced by Ministry of Electronics and Information Technology (MeitY), which provides financial support to start-ups working on semiconductor design projects. Under the scheme, the government of India offers a reimbursement of up to 50% of the design cost, subject to a maximum of INR 15 crore per application. The DLI scheme significantly boosts start-ups, as it helps them overcome financial barriers and invest in research and development.
The SemiconIndiafutureDESIGN Roadshows 2023 under the DLI Scheme will take place at IIT Delhi, a premier engineering institute in India, on May 12th, 2023. The first Roadshow occurred on October 18th, 2022, at Karnavati University in Gandhinagar, followed by the second on February 24th, 2023, at IISc Bengaluru. The event will be attended by future DESIGN start-ups, global semiconductor majors, deep-tech venture capitalists, and other industry experts. These roadshows allow start-ups to showcase their ideas and products to a broader audience, including investors, industry experts, and potential customers. The roadshows also offer a platform for start-ups to interact with mentors and receive guidance on various aspects of business and technology.TheSemiconIndiafutureDESIGNprogramme and the DLI scheme are a part of the government's efforts to promote innovation and entrepreneurship in the semiconductor industry. The programme has already succeeded, with several start-ups receiving funding and support to develop their products and services. With the continued growth of the semiconductor industry, the need for more start-ups to innovate and bring fresh ideas to the table will only increase.
To summarise, the SemiconIndiafutureDESIGNprogramme and the DLI scheme are significant steps towards promoting innovation and entrepreneurship in the semiconductor industry in India. These initiatives provide a platform for start-ups to showcase their ideas, receive funding and support, and connect with industry experts, investors, and mentors. The SemiconIndiafutureDESIGN Roadshows 2023 under the DLI Scheme at IIT Delhi offer an opportunity for start-ups to interact with a broader audience and receive guidance on various aspects of business and technology. For more information on the programme, visit https://futuredesign.semiconindia.org
English