National Conclave on Science & Technology Empowerment of Tribal Community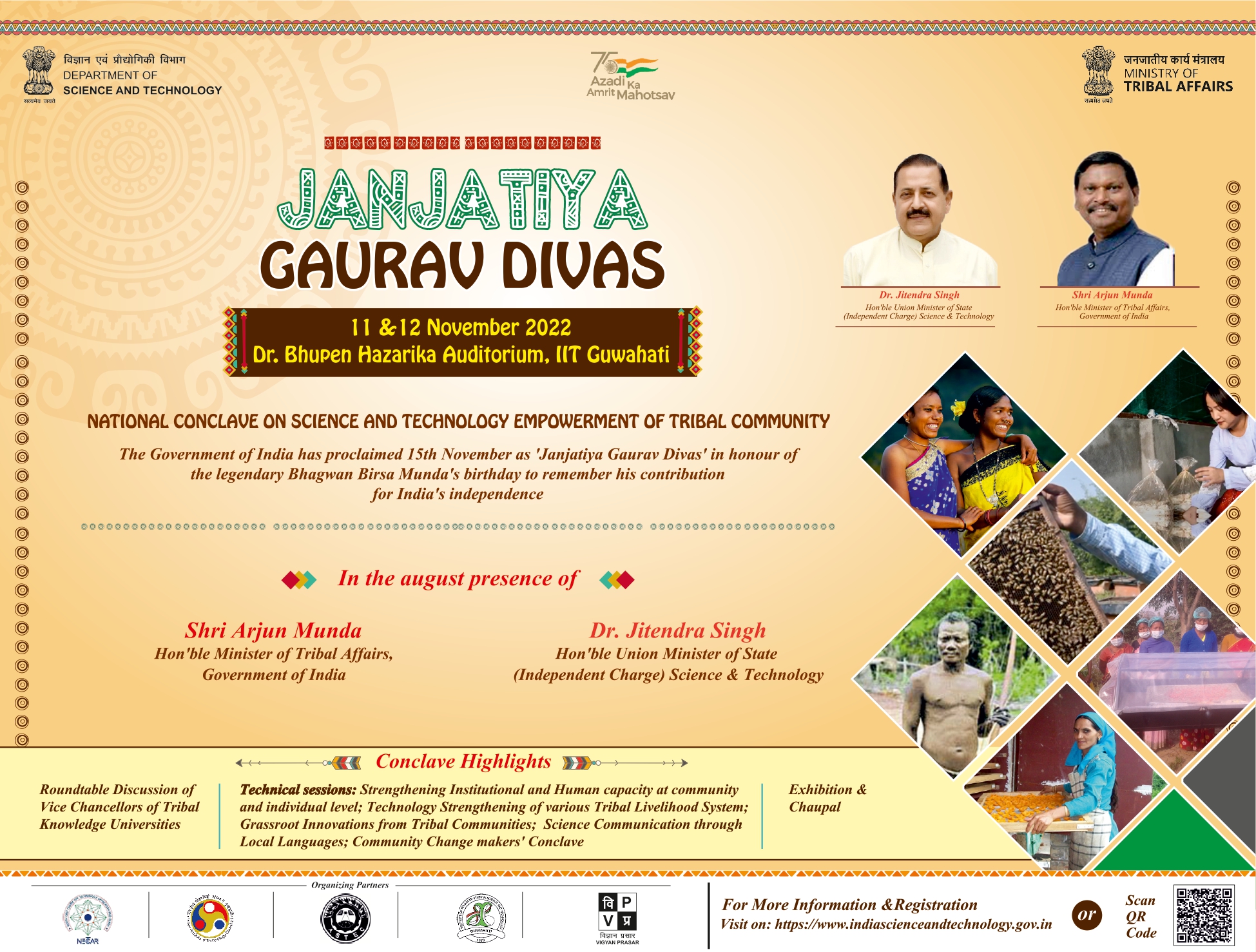 Science and Technology (S&T) has played a pivotal role in the nation's development and has empowered communities across the board. As the nation celebrates the second anniversary of National Tribal Day or Janjatiya Gaurav Divas on November 15, 2022— the initiative that was started by Hon'ble Prime Minister Shri Narendra Modi last year on the birth anniversary of Bhagwan Birsa Munda— emphasizing what role the S&T has played in empowering the tribal communities, gives us an opportunity to look back and analyze how far we have traveled when it comes to empowering tribal people through S&T and also contemplate what more is needed to be done to further empower the tribes who have been on the margins.
A two-day national conclave on "Science and Technology empowerment of Tribal community" at the Indian Institute of Technology, Guwahati (IIT-G) on 11th -12th November, jointly organized by the Department of Science and Technology (DST) and the Ministry of Tribal Affairs aims to make society aware and informed about what DST and other scientific organizations have been doing to empower the tribal communities.
The conclave would display various initiatives by the DST through Technical Sessions on Strengthening Institutional Capacity and Human Capacity at Community and Individual Levels, Technology Strengthening of Various Livelihood Systems, Science and Technology Strengthening for Tribal Welfare and Science Communication through Local Languages. There will also be a roundtable discussion by Vice-Chancellors of tribal universities, and Community Changemakers' Conclave besides Exhibitions and Chaupal. The conclave provides a unique opportunity for Tribals to showcase their capacities in developing sustainable solutions for AtmaNirbhar Bharat.