National Initiative for Developing and Harnessing Innovations-Technology Business Incubator (NIDHI-TBI)
Entrepreneurship has played an instrumental role in transforming societies and improving the standard of living. Start-ups have been the driving forces of technological innovation globally, finding novel solutions to problems or upending conventional wisdom to benefit society. India ranks globally 3rd in the Start-up ecosystem and the number of Unicorns. As per the latest data, there are currently 105 unicorns, out of which 44 were born in 2021 and 19 in 2022.
Globally business incubation has been acknowledged as a crucial tool for boosting economic developmentand creating jobs.Instruments such as Technology Business Incubators (TBIs) are recognised worldwide for initiating technology-led and knowledge-driven enterprises. Studies have depicted that such mechanisms help in the growth of technology-based new enterprises, substantiallyimprove their survival rate (from 30 to over 70 percent), and facilitate speedy commercialisation of research outputs.
The Innovation and Entrepreneurship Division (National Science and Technology Entrepreneurship Development Board (NSTEDB)) of the Department of Science & Technology (DST), Government of India, created a programme, National Initiative for Developing and Harnessing Innovations (NIDHI), to nurture ideas and innovations (knowledge-based and technology-driven) into successful start-ups.The programme's focus would be on creating an innovation-driven entrepreneurial ecosystem to foster national growth through the generation of wealth and jobs in accordance with national priorities and goals.The primary stakeholders of NIDHI include various departments and ministries of the central government, state governments, academic and R&D institutions, mentors, financial institutions, angel investors, venture capitalists, and private sectors. A key component of NIDHI is the NIDHI-Technology Business Incubator (NIDHI-TBI)-Converting Innovations to start-ups. The NSTEDB supports TBIs primarily in academic, technical, and management institutions to tap innovations and technologies for venture creation by utilizing expertise and infrastructure already available with the host institution. Recently, non-academic institutions have also displayedan interest in setting up NIDHI-TBIs. Technology-based new enterprises are high-risk and high-growth ventures and hence require an enabling environment like NIDHI-TBI to enhance the prospects of their success. There are different variants of incubators: Technology Business Incubators (NIDHI-TBIs); Innovation Hubs; Centers for Innovation & Entrepreneurship; Virtual Incubators; Seed Accelerators. The TBIs provide a host of services to new/existing enterprises, such as Market survey/marketing assistance, Business planning and training, Organising management/technical assistance, Assistance in obtaining statutory approvals, Information dissemination on product ideas/technologies, Syndicating finances, Arranging legal and Intellectual Property Rights (IPR) services, Using facilities of the Host Institute (HI) at nominal charges, Workspace for a limited period, Common facilities of TBI such as communication, conference, computers.
Objectives of NIDBI-TBI
NIDHI-TBI was created to promote new technology/knowledge/innovation-based start-ups by providing a platform for speedy commercialization of technologies developed by the host institution/any academic/technical/R&D institution/an individual. It aims to create jobs, wealth, and business aligning with national priorities by building a vibrant start-up ecosystembyestablishing a network between academia, financial institutions, industries, and other institutions. NIDHI-TBI would also provide cost-effective, value-added services to start-ups like mentoring, legal, financial, technical, and intellectual property-related services, facilitating technology transfer, and fostering the entrepreneurial spirit.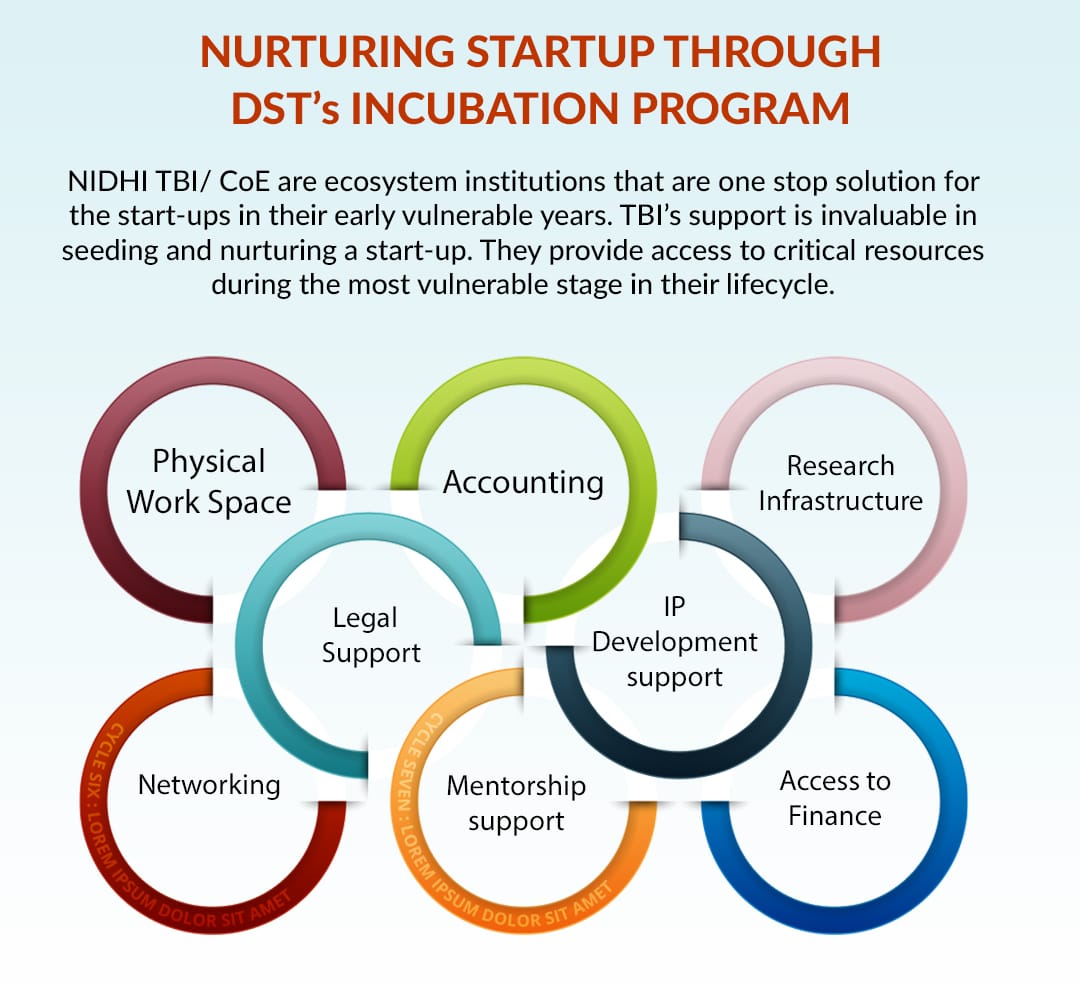 Sector, eligibility, and financial support
The DST supports NIDHI-TBIs in manufacturing, agriculture, healthcare, clean-tech, energy, water, and the Internet of Things (IoT)/Information& Communication Technology (ICT). The funding would support the TBIs/ Incubators/Societies/Trust/Innovators/Start-ups.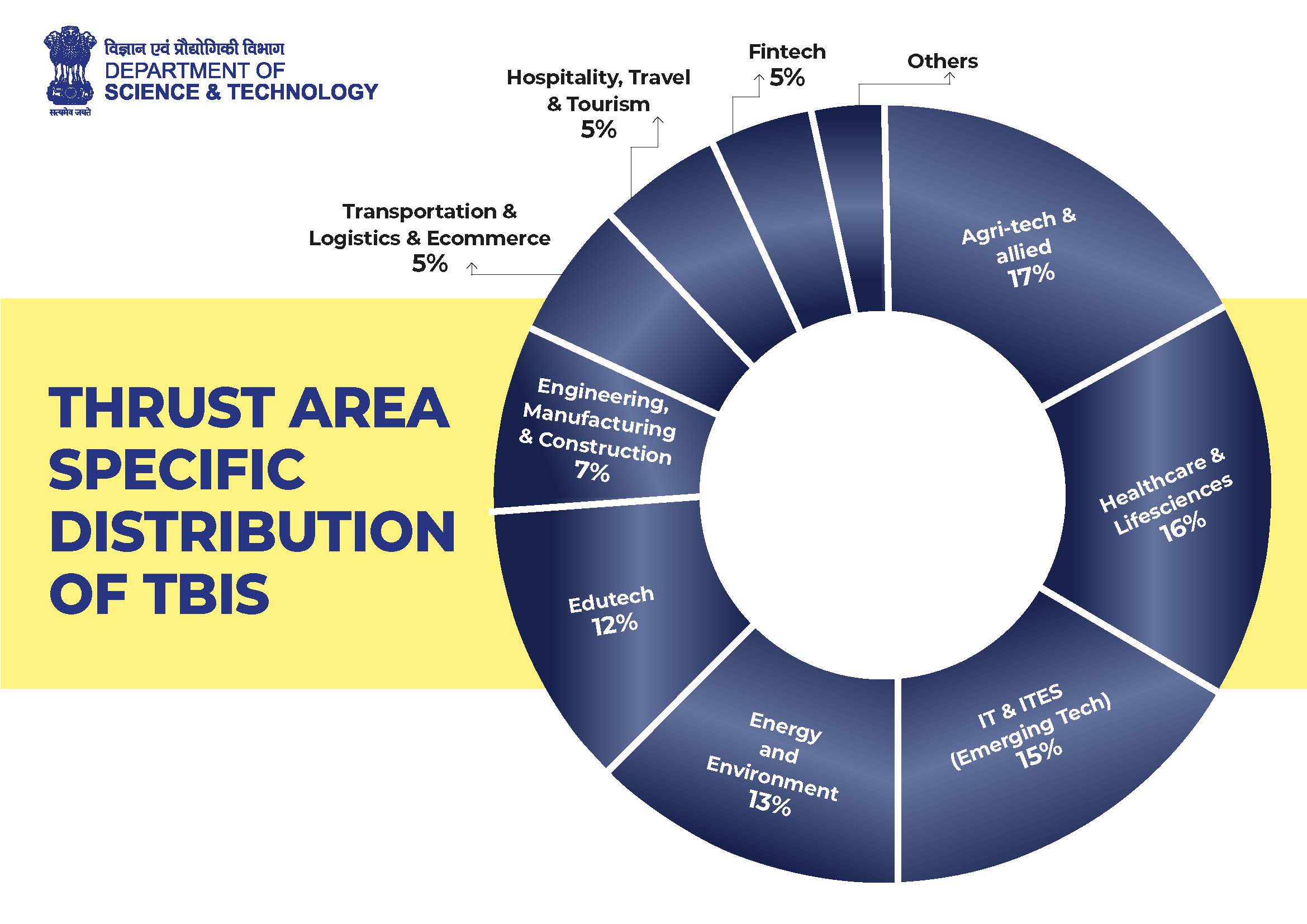 The proposal for establishing a NIDHI-TBI has to be submitted by an Academic/Technical/R&D Institution (Host Institute)or any other institution with a proven track record of promoting technology-based entrepreneurship. The host institute shouldbe a legal entity registered in India with the explicit purpose and objective of promoting research, innovation, and an entrepreneurial ecosystem, have adequate expertise and infrastructure to support incubation activities and be in existence for at least three years. The DST encourages NIDHI-TBI to collaborate with an industry/ academic institution/other institutions of repute, focusing on innovation, research, commercialization, and start-up promotion. The financial support for establishing a NIDHI-TBI can be extended to a not-for-profit legal entity registered as a society/trust/section 8 company but is not available to for-profit incubators and pure R&D proposals for academic pursuits and industrial consultancy.
The incubators can apply online once a year for the grant, and the incubate start-ups can apply to any of the listed TBIs for the same on the website of the NSTEDB. An incubator's maximum financial support through the NIDHI-TBI isINR 5000 lakhs for five years.The fund would be released in a few phases per the incubator's need, capacity, and capabilities in accordance with a proper process. The incubate start-ups would receive a yearly minimum grant of INR 2 to10 lakh and a maximum of INR 50 lakh.
NIDHI inclusive-Technology Business Incubator (NIDHI-iTBI)
The NIDHI-TBI has now evolved into the NIDHI-iTBI,intending to instill a spirit of innovation and entrepreneurship in students, inventors, and entrepreneurs, as well as to stimulate and support creative ideas and start-up creation through incubation. With the assistance of mentors from the academic and entrepreneurial communities, students, entrepreneurs, and innovators will try to establishstart-upson unique ideas/projects. The i-TBI will provide grants-in-aid to innovators to develop their ideas into prototypes and enterprises.
The protracted objectives of the i-TBI are: to inspire and encourageeducational institutions, especially those in the technology sector, to cultivate a culture of innovation-driven entrepreneurship among students and faculty; to focus on institutions, especially in areas without the necessary innovation and entrepreneurial ecosystem; to establish a dynamic innovation ecosystem that encourages the development of start-up culture in the adjacentregions;
to facilitate and create a network between academic institutions, investors, mentors, industries, and otherorganisations.
The iTBI provides maximum financial support of INR 500 lakhs to the incubatorfor three years.The culture of innovation and entrepreneurship of the iTBI would benefit the host institution and the surrounding geographies.
Current Status of NIDHI-TBI
The DST has provided INR 200 crores for developing the start-up incubator infrastructure in the last five years and supported setting up incubation centers across 24 states in the country, including 8 Centres of Excellence, 120 TBIs, 40 NIDHI-TBIs, and 4 NIDHI-iTBIs.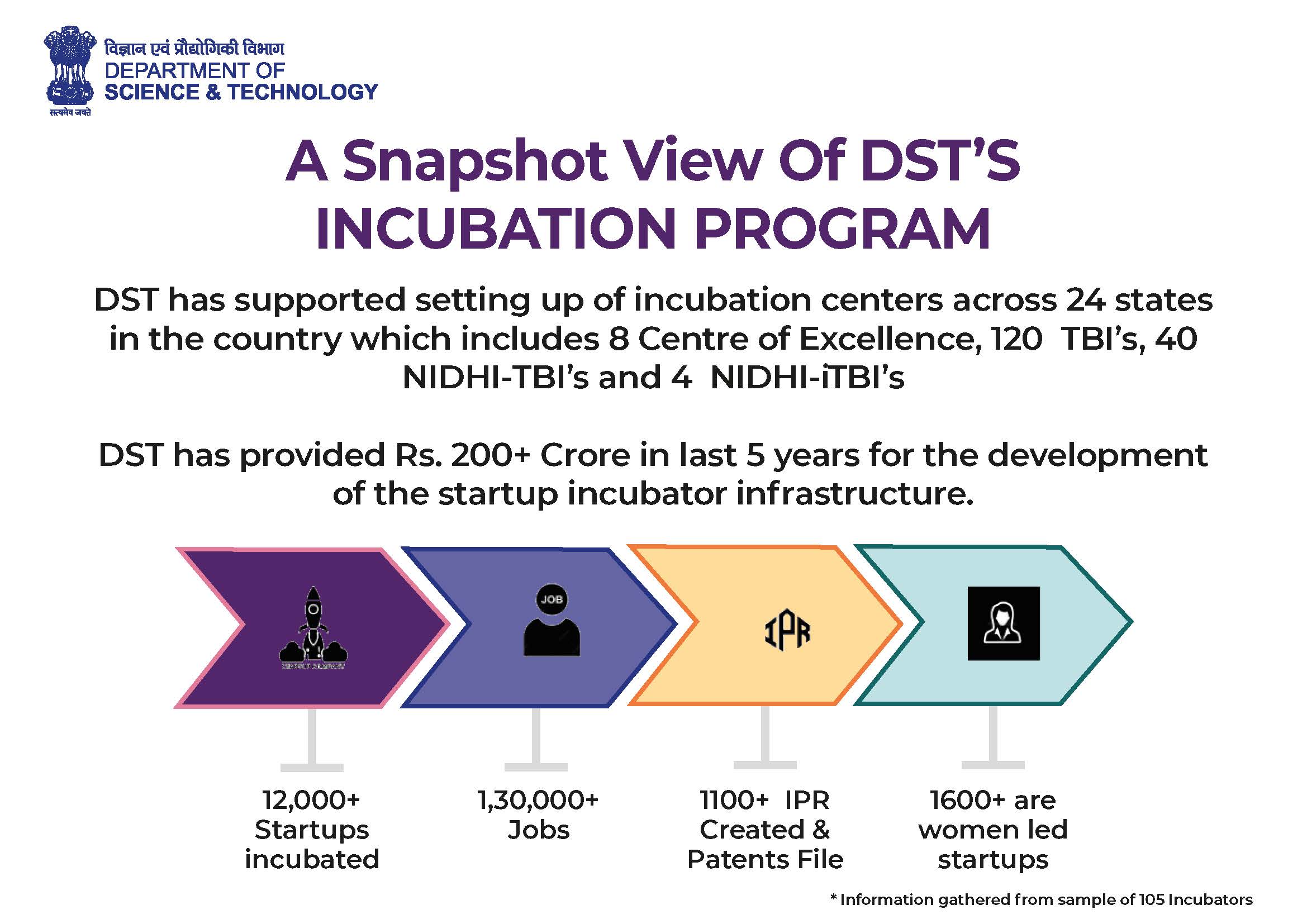 Dr Sirat Sandil