The woman behind the 'mask'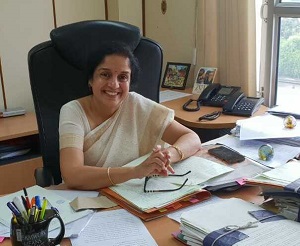 The Indian Government's advisory on mandatory usage of a mask as a protection against infection by SARS-CoV2 came way early in the course of the pandemic. India's push for mass use of homemade masks was due to the persistent efforts of one woman - Dr Shailja Vaidya Gupta. Dr Gupta is Senior Adviser at the Office of Principal Scientific Adviser, Government of India.
"Her clarity about the need for face masks, her leadership in getting her team to complete the task of developing an effective communication manual, and her persistence in taking it through to fruition have all had very important positive consequences."
Prof K VijayRaghavan, PSA to Government of India
As the pandemic spread, many people resorted to buying N95 masks that limited their availability for healthcare workers who were at a higher risk of infection. Besides, the increasing sale of low-quality single-use masks added to the problem of biomedical waste management. For a country, a large population of which lives in rural areas and urban slums, buying single-use masks or N95s were an unaffordable choice. 
"People living in slums, for example, need a local, cheap and simple solution, and that is where the homemade mask can make a difference," Dr Gupta said in an interview.
In addition to pushing for homemade masks, her team prepared a manual that depicts the stepwise procedure of making a mask at home and the correct way of wearing it. This manual has been translated into 22 Indian languages. Self-help groups from across the country geared to make these masks.