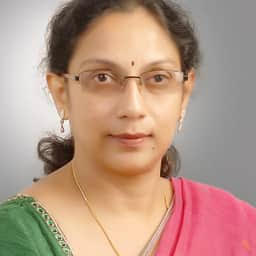 Amrutha is an Entrepreneur and Technology Evangelist with 25years corporate experience with Wipro & Tata Docomo.   She is a MCA Gold Medalist with MBA.  She always strive to provide Innovate & simplistic solutions for complex problems.  She has the experience in various fields of Business Analysis, Strategy, Solution Architecture, Consulting and Development Activities.  As a Security Consultant, she played instrumental role in multiple green field projects like mRUPEE mobile payments, defined Data Security Framework & Data Privacy Framework for Data Security Council of India (NASSCOM initiative).
Amrutha started PurpleApple Infosystems 5 years before with a mission of Empowering Retailers, Engaging Customers & Elevate Sales with innovative solutions using latest technologies.  
Amrutha is a spiritual person & always learn about life through meditation.
Mission and Vision
With the Vision of "To Be One of Top 10 Most Innovative Business Solution Providers in India",  PurpleApple Infosystems started its journey in 2016.
The Mission of PurpleApple Infosystems is "Empower Retailers, Engage Customers and Elevate Sales".
The organization is recognized by "Startup India", certified by DIPP (Department of Industrial Policy and Promotion) & products are validated with the recognitions by IIM Bangalore,  IIT Delhi & XLR8AP Entrepreneur Accelerator programs.
Accolades and Awards
In her entrepreneurial journey, she has received many accolades : "Women Entrepreneur of the year 2018" by Delhi Management Association, "Techpreneur of the year 2019" by WEFT foundation, "Promising startup of the year 2020" by Indian Achievers Forum, represented India in an international startup event "Latitude 59" @ Tallin in 2019.  She was one of the cohort members of many prestigious entrepreneurial programs like IIMB, IITD, SheLeadsTech by FB, SheLovesTech, Amity Innovation Incubation, SonderConnect, XLR8AP,  & many more. 
Her TRYb4uBUY is world's first sector agnostic Virtual Try solution using Augmented Reality & Artificial Intelligence technologies which allows users to TRY jewellery, spectacles, apparels, furniture, home décor items, etc., before they BUY.  TRYb4uBUY bridges the gap between online and offline shopping by providing third dimension of Virtual Try using mobiles or laptop camera.  TRYb4uBUY solution featured in Department of Science & Technology articles, your story & couple of daily newpapers.
Entrepreneurial Journey :  From Nothing to Ideation and Implementation
After having completed a successful journey in large corporates like Wipro & Tata Docomo, Amrutha started thinking of how to contribute to the society.   She understood that the people were trying to find out a way to come out of the stressful & robotic nature of world.   There are many innovations & solutions which handle serious issues like Healthcare, Environment etc, very few exists when it comes to providing Experience, Engagement, Education & Entertainment. In this stressful world, it is the need of the hour to address these issues immediately.  She strongly believes that even a small experience that is good can make a huge difference in the mindset of the people & drives business growth.  This was the motive that lead her to take a plunge into Entrepreneurial journey.
"TRYb4uBUY" is one of the flagship product developed by Amrutha and her team.  Trying the product before purchases will increase the buying instinct of a consumer which leads to more business. 
TRYb4uBUY Empowers Retailers, Engages Customers, Elevate Sales.  TRYb4uBUY is world's first sector-agnostic, omni channel AR+AI based Video and social shopping solution which allows users to TRY items jewelry, spectacles, watches, furniture, furnishings, paintings, tiles etc  digitally with EXACT SIZE before they BUY using mobile or laptop camera.  TRYb4uBUY works on all smartphones, laptops without any additional device or training required.
This will facilitate enterprises to REDUCE returns, Manage Remote/Global customers,  Increase Brand Loyalty by providing delightful  experience & INCREASE revenues.  More business to a retailer results in more buying / investing power & the cycle goes on to improve economy. 
Value Proposition
For all enterprises who would like to differentiate their products or services, PurpleApple Infosystems provides Augmented Reality mobile applications for Marketing coupled with easy to configure 'Do It Yourself' portals.  Unlike the existing model of developing web portals and  mobile apps for each of the enterprise, PurpleApple provides generic API's / SDK's to integrate with existing web portals and mobile applications.  It is Cost-effective, requires NO training, NO additional device required as it works on ALL smart phones. 
Thorns in Her Entrepreneurial Journey
To make her dream into reality, Amrutha had to overcome many obstacles. She faced many challenges such as being judged by her peers & friends for leaving her job after 20yrs to trying to understand the rules of the startup. She had to start from scratch as her personal and professional life had started to seep into unknown foreign territories.  Being a newly opened company, she had minimum funds to pay for employees, keeping a tab on investment for product validation proved to be quite taxing.
The journey of a new entrepreneur takes a lot of hard work and leads to less or no returns in the initial years. The fundamental question of where to get money for primary investment is the biggest problem of all. Funding governs the quality of employees, products, the infrastructural facilities and the time consumed in completing a task.
In the current world where software innovations are introduced by mega companies like Google & Facebook every month, a budding company holds no cards while competing against the likes of such.
A client chooses a product based on company's credibility, but for a startup which is still in its formative years is difficult to claim the credibility.  A startup, especially bootstrapped organizations which does not have enough resources for elaborate Research & Development which the ever changing tech world requires finds it difficult to establish initially.
But undeterred by such problems, she worked hard to establish herself amidst young entrepreneurial minds and make a name for herself.