VANRAJ Bicycle Pump
Details:
This is a cycle based portable centrifugal pump. The water pump is mounted on the carrier over the rear wheel of a bicycle. Pedal power is transferred from two pulleys attached at the back of wheel. The pump is placed on a platform placed at the rear carrier of bicycle. The unit comprises 1 inch suction pipe (5m), hose nipples, foot valve, bracket, ring 7 V-belt) , Fabricated frame, 1 inch suction & delivery pipe, sprinkler, stand, foot valve. It is used for lifting water for various purposes like development of dry land, as a fire extinguisher, for construction work, use in gymnasium and for irrigation. The bicycle is taken to the water source, parked and peddled on its stand to operate the pump.
Innovator:
Mr. Chandrakant V. Pathak
Area:
Engineering Sciences
Contact Address:
pune
State:
Maharashtra
Funding agency:
Ministry of Human Resource Development (MHRD), Govt. of India
National Mission:
Skill India
Implementing institute:
Gujarat Grassroots Innovations Augmentation Network (GIAN), India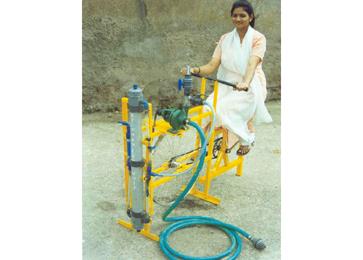 Benefits
The pump is pollution free and no electricity and fuel are required to operate. It is operated by human power and is light-weight.
Related links