Natural Water Cooler
Details:
An accomplished technician and fabricator, Arvindbhai Patel is a serial innovator who has never learnt to give up. With his keen mind, he has developed many innovative products such as Natural Water Cooler, Auto Air Filling Pump, and Auto Compression Sprayer and Innovative tongs.
Innovator:
Arvindbhai Patel
Area:
Engineering Sciences
Contact Address:
Ahmedabad
State:
Gujarat
Funding agency:
Ministry of Human Resource Development (MHRD), Govt. of India
National Mission:
Skill India
Recognition:
The innovation is also tested and supported by Gujarat Energy Development Agency (GEDA), Gandhinagar.
Implementing institute:
Gujarat Grassroots Innovations Augmentation Network (GIAN), India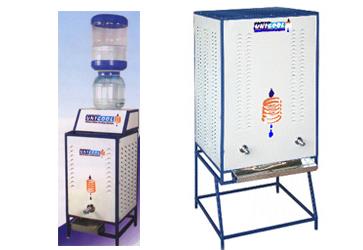 Benefits
The cooler is a low cost house hold product that operates without electricity.
Related links