Motorised Kite String Winder (Phirkee)
Details:
All kite flying enthusiasts will accept that winding the string is a difficult process and takes time, after the kite is cut. Rightly identifying the need of kite flyers, Pareshbhai has made an automatic thread winder, which uses two small batteries. Easy and speedy operation, it winds 500 yards of thread in 30 seconds.
Innovator:
Pareshbhai Panchal
Area:
Engineering Sciences
Contact Address:
Ahmedabad
State:
Gujarat
Funding agency:
Ministry of Human Resource Development (MHRD), Govt. of India
National Mission:
Skill India
Recognition:
For this winder, he was supported under the Micro Venture Innovation Fund of NIF. A patent was also filed in his name. He got a Consolation Award in NIFs Fourth National Competition for Grassroots Innovation and Traditional Knowledge in 2007.
Implementing institute:
Gujarat Grassroots Innovations Augmentation Network (GIAN), India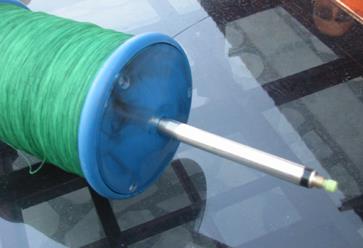 Benefits
The winder provides a simple convenient way of automatic thread rewinding aimed at enhancing the enjoyment of kite flying. Simple in construction and thus a high degree of operational reliability is ensured. Makes the Kite Flyers self reliant, as the speedy process saves the time in rewinding and he /her has not to depend on anybody while flying the kite. It reduces the chances of stray accidents caused in substantial numbers on roads where vehicle riders get entangled by loose threads. The motorized charkhi rewinds the loose thread with high speeds and thereby reduces such incidence.
Related links