Head Load Reducing Device
Details:
Rural women walk many tens of miles with heavy load on their head which causes stress, discomfort and eventually head and neck injuries. The product is an ergonomically designed device fixed on top of the head, with two extended supporting rods from the sides of the device. The device transfers the weight carried on the head to the shoulders, which is better positioned to carry weight.
Innovator:
Shri Khimjibhai Kanadia
Area:
Engineering Sciences
Contact Address:
Sabarkantha
State:
Gujarat
Funding agency:
Ministry of Human Resource Development (MHRD), Govt. of India
National Mission:
Skill India
Recognition:
Awarded by NIF
Implementing institute:
Gujarat Grassroots Innovations Augmentation Network (GIAN), India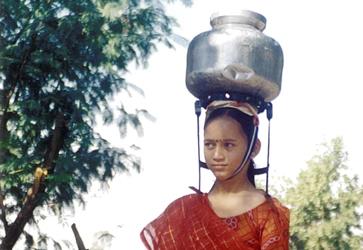 Benefits
The device helps women to take rest while carrying load on their head by shifting the load to shoulder and vice versa.
Related links