The war against antimicrobial resistance: C-CAMP and CARB-X forge alliance
The Centre for Cellular and Molecular Platforms (C-CAMP), which houses one of India's largest life science-based start-up incubators, has been selected by a USA based research institute, Combating Antibiotic Resistant Bacteria (CARB-X) to aid in developing new antimicrobial solutions. The alliance will foster development of new antibiotics and devices towards saving human lives in India and beyond.
C-CAMP is a leading life science innovation and entrepreneurship hub whose initiatives include funding, state-of-the art incubation facilities, a mentorship program and a business accelerator program to create a vibrant ecosystem for nurturing life-saving innovations. CARB-X, the world's largest public-private partnership encouraging antimicrobial research, has chosen C-CAMP to join its global accelerator network—a consortium of 10 organizations working to combat antimicrobial resistance (AMR). C-CAMP is the first, and currently only, accelerator outside of the USA and Europe to join the consortium.
Today, indiscriminate antibiotic usage has made AMR a very serious threat—the World Health Organization (WHO) fears that we may soon slip back into a situation similar to the pre-antibiotic era.
In 2015, AMR deaths in the European Union alone were estimated to be ~33000. Closer to home, it has recently been reported that AMR-linked deaths in intensive care units in Bangladesh are as high as a shocking 80%. In India, lack of diagnostic technology and poor surveillance has precluded the estimation of an approximate number of AMR-related deaths; however, AMR frequencies in common bacteria are known to be high. As of 2017, the Centre for Disease Dynamics, Economics, and Policy (CDDEP), USA estimates that AMR to third-generation cephalosporins and fluoroquinolones in several bacteria are as high as >80%.
Despite rising AMR, research on antimicrobials has taken a back seat.
"Apart from practicing antibiotic stewardship, we also really need to start investing in research on new antibiotics, vaccines, and technology to stop the spread of AMR infections," says Dr. Taslimarif Saiyed, CEO and Director of C-CAMP.
"There hasn't been a new class of antimicrobials in my lifetime, and I am 56 years old!" says Dr. Rich Lawson, Director of Portfolio Support for CARB-X. "This is why CARB-X supports non-dilutive funding and accelerator support for antibiotics, diagnostics, vaccines, and preventive technologies. Our interests lie in getting products to patients as quickly as possible," he adds.
The CARB-X partnership is only the latest feather in C-CAMP's antimicrobial combat helmet. The incubator, which is a Department of Biotechnology (DBT), Government of India initiative, has long recognized AMR as a major problem, and worked towards fostering research in antimicrobial solutions. In 2017, C-CAMP organized a diagnostic challenge competition—AMR-DxC—in association with the University of Edinburgh and the Longitude Prize. In 2018, C-CAMP also organized an AMR workshop in collaboration with the Erasmus Medical Centre (Netherlands).
C-CAMP currently supports 6 startups with innovations for combating AMR. Coeo Labs and Biomoneta, both Bengaluru-based, are developing technologies to prevent infection spread in critical and neonatal healthcare setups, respectively. Spotsense, Bengaluru and Module Innovations, Pune have created diagnostic kits to detect neonatal sepsis and Escherichia coli (in clinical and food samples), respectively. C-CAMP also backs Dr. Prashant Rathinam, an individual entrepreneur developing catheters resistant to biofilm infections. Bugworks, Bengaluru, which has been associated with C-CAMP for 5 years, has won CARB-X funding for ~6.2 million USD in 2017 for developing new classes of broad-spectrum antibiotics against multi-drug resistant gram-negative bacteria.
"C-CAMP has been very useful for startups like Bugworks since it provides laboratory space and a rich intellectual ecosystem," says Dr. Balasubramanian V, co-founder of Bugworks. "Building a company requires more than just a superb technical idea. Incubators like C-CAMP help startups move from ideation, to fund raising, prototyping, and finally to market realization. In short, inside an incubator, the value for a startup far exceeds the mere summation of individual startups," he adds.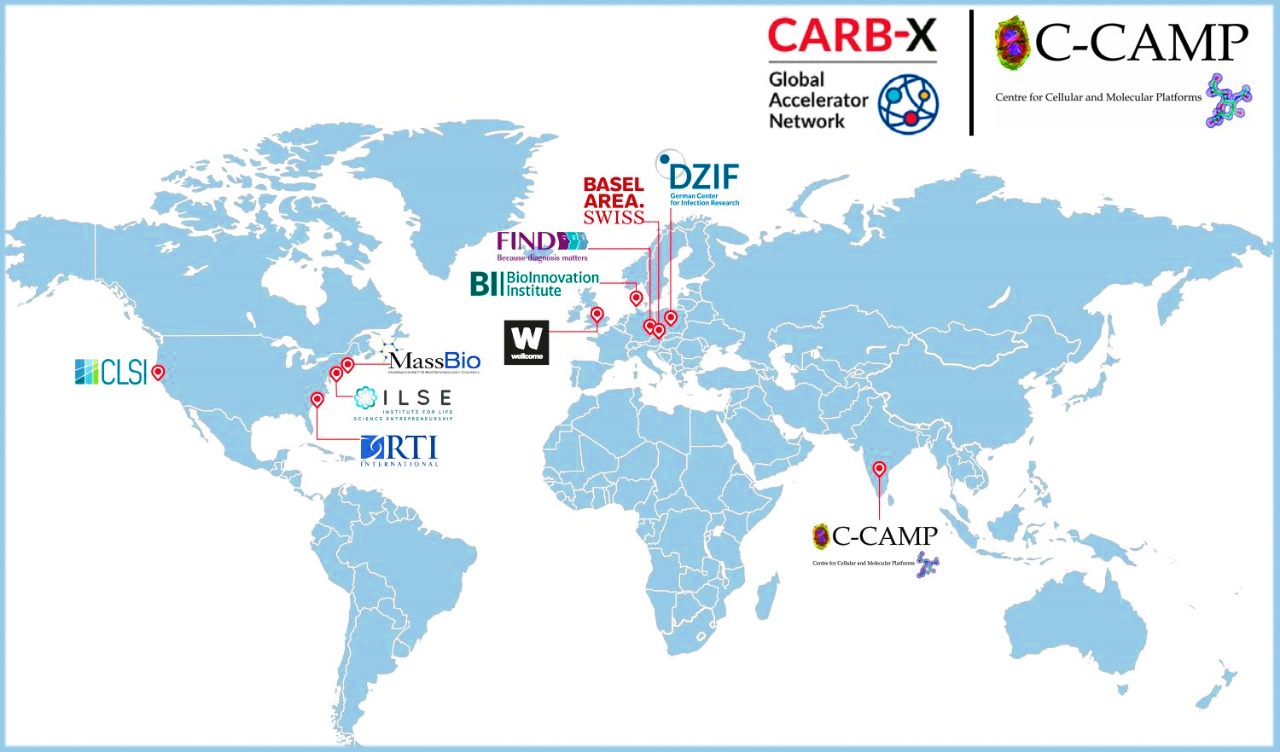 A recent analysis of the AMR situation in India states that insufficient surveillance and inadequate awareness of AMR have hampered research funding in this field.  C-CAMP's alliance with CARB-X will be a big boon—opening up funding opportunities of 550 million dollars—to Indian medical innovators working on combating AMR.
"When we set out to expand, we needed to have broader capabilities to tackle AMR," says Dr. Lawson. "One of the things we found most impressive about C-CAMP was their ability to work with small companies and foster their growth through mentorship programs and incubation capacities," he adds.
With the CARB-X partnership, C-CAMP will now also be able to network with 9 other world-class organizations—California Life Sciences Institute (California), MassBio (Boston), RTI International (North Carolina), the Wellcome Trust (London), Basel Area Swiss (Basel), BioInnovation Institute (Copenhagen), Foundation for Innovative New Diagnostics (Geneva), German Center for Infection Research (Braunschweig), and Institute for Life Sciences Entrepreneurship (New Jersey).
"India will provide international researchers with interesting challenges to work on," says Dr. Saiyed. "And in return, Indian issues will attract international attention, and perhaps more effective solutions. This partnership between C-CAMP and CARB-X is going to be win-win all around," he adds.
English