With persistent pursuit of innovation, India makes to top 50 in Global Innovative Index 2020
Marking a major improvement amid the COVID-19 pandemic, India has moved up four places since 2019 to rank 48th in the Global Innovation Index (GII) 2020 report. India has for the first time made it to the top 50 countries in the GII. Now India has become the third-most innovative lower-middle-income economy in the world, according to the report. India, at 48, also retains the highest rank in the central and southern Asia region.
The GII 2020, in its 13th edition this year, is co-published by Cornell University, INSEAD, and the World Intellectual Property Organization (WIPO) - a specialized agency of the United Nations. Published annually since 2007, the GII is now a leading benchmarking tool for business executives, policy makers and others, seeking insight into the state of innovation around the world. Policymakers, business leaders and other stakeholders use the GII to evaluate progress on a continual basis.
Currently, the world is struggling to cope up with the economic and social implications of the COVID-19 crisis. Now more than ever, innovation—primarily in finding treatments and a vaccine—is humanity's best hope to overcome the economic lockdown. This pandemic is a potent reminder that health-related research and development (R&D) and health system innovations are not a luxury, but a necessity as every crisis brings opportunities and room for creative disruption. One side effect of the current crisis has been to stimulate interest in innovative solutions for health, naturally, but also for areas such as remote work, distance education, e-commerce, and mobility solutions. Unleashing these positive forces may well support societal goals, including reducing or reversing long-term climate change.
The top 100 S&T clusters of GII 2020 report pinpoint the geographical areas accounting for most S&T activity in the world. However, they differ vastly in size and population density. To capture the S&T intensity of the top 100 clusters, per capita S&T output is measured, using a bottom up approach.
India has embarked on a journey towards creating an enabling environment by putting in place an ecosystem that breeds innovation. The Government of India has launched several significant initiatives for propelling innovation, such as the Start-up India initiative, Accelerating Growth of New India's Innovations (AGNIi), Atal Tinkering Labs (ATLs), Smart City Mission, etc. All these initiatives, coupled with phenomenal research and innovation from the institutions, industry, and society, are cementing India's position as an innovation and knowledge hub.
Various fiscal incentives are offered by the Government of India's Department of Scientific and Industrial Research (DSIR) for R&D activities performed by institutions, academia, and industry for supporting, nurturing, and leading their innovations towards fruition. Technology Development Board (TDB), an important stakeholder in the Indian innovation ecosystem, provides soft loans and promotes the equity of Indian industry through the development and commercialization of indigenous technology and by adapting imported technology for domestic applications. Biotechnology Industry Research Assistance Council (BIRAC) supports high-risk, early starters from academia, start-ups, or incubators that have exciting ideas in the nascent or planning stage. In India, there has been phenomenal growth of the private and foreign-owned private equity & venture capital industry. The government has also played an important role in establishing and nurturing the industry segment by various fiscal concessions.
India made significant progress in the last decade in building the country's innovation ecosystem. With around 50,000 start-ups, it is today the third-largest start-up economy, after the United States of America (USA) and the United Kingdom (UK).
The GII ranking is based on a set of 80 indicators classified into the Innovation Input Sub-Index, which has five innovation measures— Institutions, Human capital and research, Infrastructure, Market sophistication, and Business sophistication—and the Innovation Output Sub-Index, which is measured by Knowledge and technology outputs and Creative outputs. The Start-up Ecosystem ranking, on the other hand, focuses on innovation outputs and is derived from the number and quality of start-ups in a country and the business environment. Investment in research and development is not only critical to the growth of the Indian economy, but to the security, health, and well-being of its people, as became apparent in the wake of the coronavirus disease (COVID-19) pandemic.
Today there are over 500 incubators in the country set up by these government agencies to nurture start-ups and build the innovation ecosystem. The agencies partner with these incubators to offer tailored grants, soft loans, and equity-linked investments to fund innovations right from the idea stage to commercialization. These government grants play a crucial role in sustaining start-ups during their establishment phase and at least partially absorbing the technology risk. Several funding agencies in India are posing Challenges, Ideathons and Hackathons to scale and deploy solutions in partnership with several line ministries.
Assessing the quality of innovation is a priority to the innovation policy community. GII utilises three indicators to measure the quality of innovation – the quality of local universities patent families filed in at least two offices, and the H-index (the number of citations that locally produced research documents receive abroad). India ranks 21st positions in the quality of scientific publications globally and 22nd position in quality of its universities (22nd), thanks to its top three universities: the Indian Institute of Technology (Bombay and Delhi) and the Indian Institute of Science Bengaluru.
GII 2020 report provides valuable insight into country innovation models and each country's position on various innovation indicators. The Global Innovation Index has been instrumental to India in shaping its policies and designing an actionable agenda for innovation excellence. The worldwide launch of the GII 2019 in India was a significant milestone for the country and a phenomenal recognition of its standing in innovation.
The GII 2020 report could be India's one-stop reference to plan and accelerate India's journey toward the future we imagine for our people. ISTI Portal Team at Vigyan Prasar encourages you to refer to this report, discuss it with others, and consider the ways we can improve as individual nations and as a global community.
Source: https://www.wipo.int/edocs/pubdocs/en/wipo_pub_gii_2020.pdf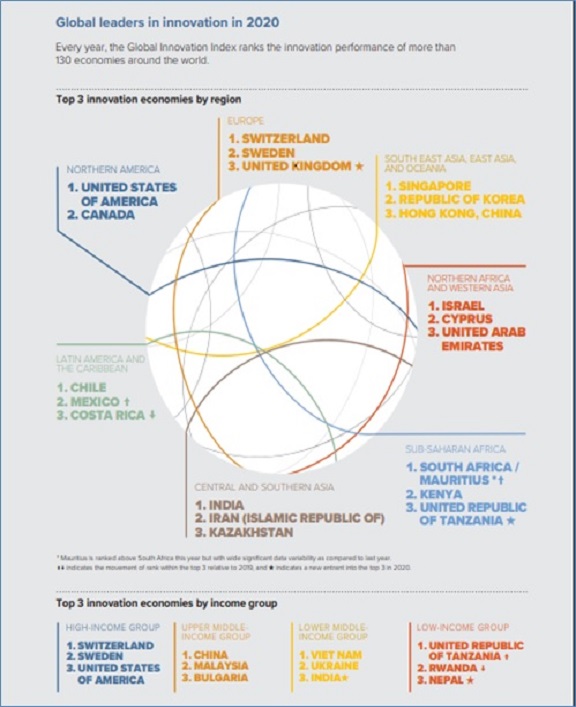 English