Oil Expeller
Details:
Conventional oil expeller machines using screw press mechanism require more maintenance, space and energy than the design that he has developed. This oil expeller, which can crush all kinds of seeds, uses planetary gear system coupled with screw press, saves power by 40 per cent when compared to the conventional oil expellers of the same capacity. It has higher production efficiency, which has been achieved by providing an improved and energy efficient transmission mechanism in a very compact design. Occupying just a third of the space of a conventional expeller, this machine is low on maintenance too.
Innovator:
Kalpesh Gajjar
Area:
Engineering Sciences
Contact Address:
Mehsana
State:
Gujarat
Funding agency:
Ministry of Human Resource Development (MHRD), Govt. of India
National Mission:
Skill India
Recognition:
He has obtained a Indian patent for this machine. NIF also has filed a patent in USA for the same. He won a National Award in NIFs First National Competition for Grassroots Innovation and Traditional Knowledge in 2001. He has been also awarded Dr. Vikaram Sarabhai Young Scientist Award by Gujarat Government.
Implementing institute:
Gujarat Grassroots Innovations Augmentation Network (GIAN), India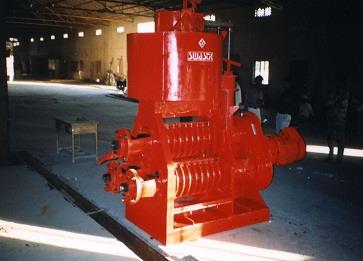 Benefits
The expeller saves space by 60% and electricity by 40% and thereby reduce the operating expenses. Perfect crushing ensures high quality cake without damaging its nutritive properties. This machine contains 3 parallel crushing chambers driven by only one 50 HP motor. The machine is made from special alloy steel which also reduces 20 to 30 % wear & tear compared to other conventional oil expeller. Crushing chamber & other oil handling parts are made from special food grade steel. The production of various dry oil seeds is given in following table
Related links