Clay Cooker
Details:
This Clay Cooker has been made from special clay. How to Use: After completion of making food using Cooker, please do not put cooker directly on the floor or kitchen top, but put cooker on the stand. Washing Method: Before washing it, take out all the food from the cooker and then fill it with water. Leave for 10 minutes before washing. Please use soft brush.
Innovator:
Mr. Mansukhbhai Prajapati
Area:
Engineering Sciences
State:
Gujarat
Funding agency:
Ministry of Human Resource Development (MHRD), Govt. of India
National Mission:
Skill India
Implementing institute:
Gujarat Grassroots Innovations Augmentation Network (GIAN), India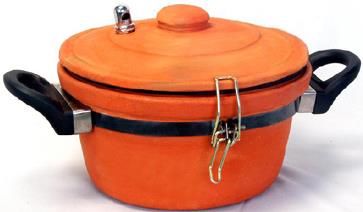 Benefits
The cooker makes tasty food, keeps food sweet, and keeps body healthy.
Related links