Women entrepreneurs take off with pride
Pooja Kaul, a 24 year old realised that donkey rearing communities in Sholapur suffered because their income which came from renting their donkeys for construction sites and brick kilns was only seasonal. She also found an opportunity. There are about 3.4 billion of donkeys in India, and one litre of donkey milk can cost more than Rs 2000. This could eliminate the problem of seasonal employment for the communities.
She mobilised donkey owner communities with favourable prices near Sholapur and started Organiko, India's first social enterprise supporting commercial activities from donkey milk. This has increased the income of the owners from Rs 9000 to around Rs 25000 per month and even the donkeys get better looked after, as the donkey is the new source of income for these families.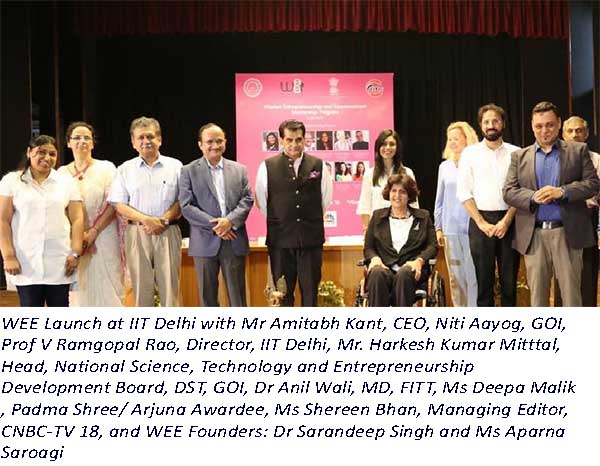 In August 2017 she harnessed the natural medicinal and anti aging properties of donkey milk to make beauty products such as soap and with the mentorship of WEE took a huge leap to help India find its well-deserved space in the organic beauty scene.
"Women Entrepreneurship and Empowerment Foundation (WEE) mentorship enabled me to make my idea of providing employment to millions of people through donkey milk product viable," says Pooja. Organiko recently also won the DST grant of Rs 1.25 Lakhs through WEE.
Although, only 18 per cent of India's 355 million menstruating women use sanitary napkins (SNs), there is no eco friendly way of destroying used sanitary napkins. Stella came up with an idea of destroying them in an incinerator or destroyer which will burn the napkins in eco friendly way and will not block the drainage system.
Menstruation is invisible and silent in India with over 82 per cent of women resorting to shocking and unhygienic alternatives like un-sanitized cloth, ashes and husk sand. 'Winstar' also works with schools on female hygiene, installs vending machines, and delivers workshops on sanitary napkins manufacturing enrolling the women to run factories. Stella is WEE 2017 gold medallist and got a grant of Rs 5 Lakhs from DST, Government of India.
Women Entrepreneurship and Empowerment Foundation (WEE) India's first of its kind initiative by IIT Delhi and Department of Science and Technology, Government of India to strengthen women eco- system has played a crucial role in changing the mindset of all these young women. It has made them new and powerful women entrepreneurs through their innovative training methods, positive motivations and unique ideas.

Let us have an introduction to few more of them. Swarnima Bhattacharya founded TheaCare which came up with idea of augmented reality uterus toys-- an immersive and engaging method for women and girls to experience and listen to their body. This can help them change their own attitude towards their body and health issues in a scenario where there is an ominous silence in society towards women's health and where women, themselves, have a lot of questions but few answers. The magical effect of augmented reality can also change people's mindset towards women's health. In addition to augmented reality modules on diverse issues, the app has a community of experts for any further questions women may have.
The journey of Suma Awasthi, an architect and a social entrepreneur passionate about environment and founder director of Visesa Pariraksita began with her concern for the increasing waste sighted on the roads. She felt responsible for providing sustainable solutions for the same.
The company came up with a solution in the form of Hitayshee magic sink, an environment friendly magic sink manufactured by Visesa Pariraksita, for converting food waste into compost, biogas and bio-energy through zero waste campuses initiatives in communities.
The design includes an advanced pipeline disposal system eliminating pickup waits and trouble during rains with clogging sinks and manholes. Hitayshee magic sink gobbles it all, helps bank your waste, and allots points to the depositor which the depositor can en-cash for redemption at medical facilities, tax exemptions. This makes organic living affordable and accessible.
Suma is a silver medallist at WEE 2018 batch and would get a grant of Rs 2.5 lakhs from DST.
Amrutha Valli, the 49 year old founder & CEO, PurpleApple Infosystems, came up with TRYb4uBUY, an augmented reality based solution for e-commerce that allows the users to TRY items like jewellery, furniture, furnishings, art, murals, apparels and so on before they BUY. It gives users a feel of the designs, colours & textures on a real environment. TRYb4uBUY makes the online shopping decisions hassle free for users which lead to higher profits for the retailer.
Amrutha is a MCA (gold medallist) with more than 20 years experience working as a tech evangelist & security consultant with Wipro & Tata Teleservices Limited (TTSL). She says, "WEE foundation played a major role in the entrepreneurial journey in terms of idea validation, design thinking, and product strategy & taking products to the market."
The vision of Neha Upadhyay founder of GUNA is to empower women through organic macrobiotic food and ecological agriculture based activities that secure their position in society making them role models for the future generations. She has a strong commitment to environmental sustainability and envisions an inclusive, equitable and healthy society where men and women support each other in every aspect of life and enjoy their right to realise their full potential. Her initiative GUNA promotes eco positive eating via retail of organic dried fruits and oils sourced from over 650 rural women farmers from Ladakh, Himachal Pradesh and Kerala.
"WEE strengthened my commitment to empower more women" says Neha who is WEE 2016 fellow and got a grant of Rs 2.5 lakhs from DST.
WEE women entrepreneurs are scripting women entrepreneurship history and solving India's unique problems like waste management, women hygiene and health, tactile technology for disabled, health for all, rural employment generation with their passion, commitment and entrepreneurship journey.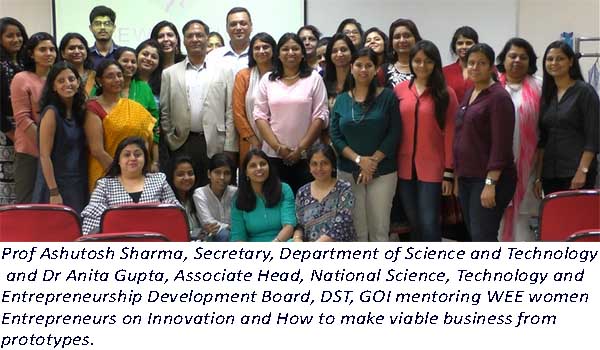 If only we have gender parity, India's GDP would grow by 1 per cent more. The only way India can achieve UN Sustainable goals is through gender parity.
India's female labor force participation (FLFP) rate is inordinately low. Only 14 per cent of business establishments in the country are being run by female entrepreneurs. Indian women's contribution to GDP is less than 20 per cent.
Women need to be empowered in India if the country has to achieve its vision to become the next economic superpower. Women can be empowered only through economic empowerment.
WEE Foundation was founded in 2016 by Dr Sarandeep Singh and Aparna Saroagi under the vision of Prof V Ramgopal Rao, Director IIT Delhi and Professor Ashutosh Sharma, Secretary, Department of Science and Technology, Government of India.
WEE provides 6 months extensive entrepreneurship mentorship by renowned mentors from academia, government and industry to chosen women entrepreneurs at institutions of national eminence: IIT Delhi and SINE, IIT Mumbai. The mentorship enables women to take up entrepreneurship as a viable career option. The course covers all aspects of entrepreneurship: Marketing, finance, business development, networking, legal aspect, product development, product positioning, and personality development. There is also a special one day session on design thinking.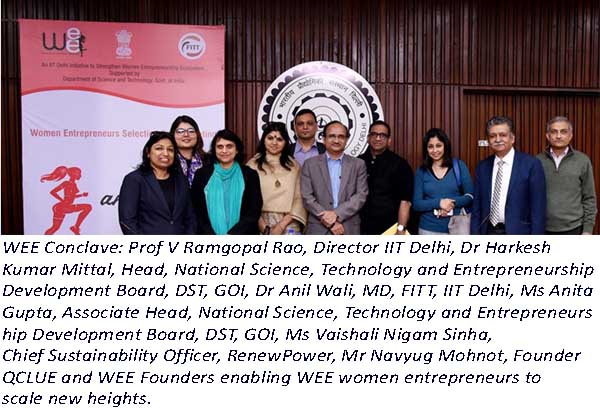 The program is conducted free of cost and applications are sought from women entrepreneurs across the country. Of the thousands of applications; based on written and interview combined; around 100 women entrepreneurs are chosen for batches at IIT Delhi and Mumbai.
These women entrepreneurs are in the age group of 18 to 57. Some are complete strangers to the start-up arena while others have been there for quite some time. While the trajectories of these women are different, they have a common goal — to master the vocabulary of entrepreneurship. The spectrum of the businesses being mentored is broad — from organic farming, bee-hiving, tissue reproduction, affordable sanitary napkins, textile technology, waste management, online marketing, drones, 3D printing to smokeless cook stoves.. The participants are ranked on a scale of 1 to 10 based on their experience or the lack of it (— 1 is for a woman who has an idea and little else, and 10 for a woman who has a venture that's up, running and scaled). Mentorship classes are conducted for these women entrepreneurs at the Indian Institute of Technologies (IITs) every alternate Sunday.
The uniqueness of WEE model comes from several factors that are combined in this programme. These include the variety of women from different sectors, different education background and who are at different stages in their entrepreneurial journey mentored together, the eminence of the national institute they are being mentored at, the world class mentors who are guiding them and their access to various networking and pitching events.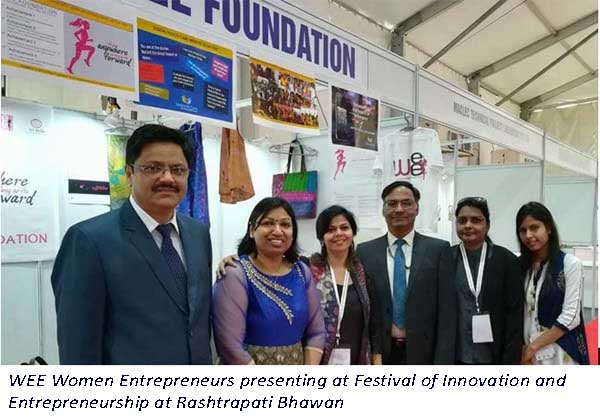 WEE Mentorship Program, collaborations avenues, networking opportunities, step by step guidance by renowned mentors and grants given by Department of Science and Technology has enabled these women entrepreneurs to scale new heights. Women entrepreneurs are supporting each other by acting as each other's mentors, customer and partners and are strengthening overall women entrepreneurship eco-system. These entrepreneurs are coming up as role models to inspire many to take entrepreneurship as a viable career option. WEE is creating chain of women entrepreneurs.
WEE Women Entrepreneurs get the opportunity to pitch to esteemed jury for the grant of Rs 50 Lakhs from DST every year.
WEE has mentored more than 500 successful women led start-ups and skilled more than 5,000 women in villages to enable them to make their own living. WEE is also pursuing the mission of 'a million for a million' by 2022, in which it envisions to empower one million women by enabling them to earn one million rupees per year.
WEE has also partnered with Niti Aayog: Women Entrepreneurship Platform, Government of India to strengthen women entrepreneurship ecosystem and increase female labour force participation. WEE strongly believe that next revolution is going to come from Women. Women are ready to take next leap
This is the time that women of India stand up and take charge.